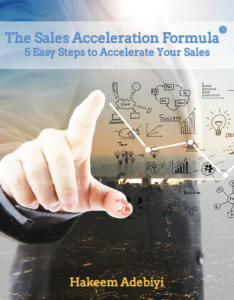 WARNING: DO NOT READ THIS BOOK IF YOU THINK SALES IS A RESULT OF LUCK
Relying on luck is the cardinal sin of the sales professional and will more than often lead to unpredictable and inconsistent sales.
In The Sales Acceleration Formula©, Director, Serial Entrepreneur and Revolutionary Sales Trainer, Hakeem Adebiyi reveals a sales implementation breakthrough that will propel your business growth into the stratosphere.
Whether you're just starting out in sales or are an experienced Sales Director, The Sales Acceleration Formula© is a defined and proven process which, by applying skill and taking time to prepare guarantees reproducible and rapid results time and time again.
In his ground-breaking new book, Hakeem will help you to:
Target the right accounts based on potential and probability
Identify the decisions you are trying to influence
Develop a clear sales presentation based on satisfying your customers strategic intent
Implement a process to overcome objections effectively & win the business
So, what are you waiting for?  Join a legion of other satisfied clients across the globe and implement The Sales Acceleration Formula © in your organisation today!