The Formula
At Sales Accelerator our number one goal is to help you reduce the sales cycle in your business. With over 25 years in the sales and marketing arena the biggest issue we saw time and again was the lack of a structured process for delivering sales success.
Rather than complain about it we decided to model all the best sales people we had worked with to understand what are the key pillars they used to deliver repeatable success. Based on that research we devised what we believe to be a fool proof model that enables you to reduce the sales cycle time and time again. We call it the sales acceleration formula.
Need More Guidance?
Proven Over 20 Years of Sales
Developed by our award winning sales team, we found ourselves on the wrong end of the following questions.
Ever get the feeling your sales team don't know where their sales are at?
Find it difficult to predict and forecast your sales?
Struggling to implement a systematic approach to sales?
Sales team complaining the CRM is more work to keep up to date?
Lacking the goal setting in your sales account management?
Is your sales cycle taking longer than you think it should?
If you answered yes to any of those questions then The Sales Accelerator is the software for you.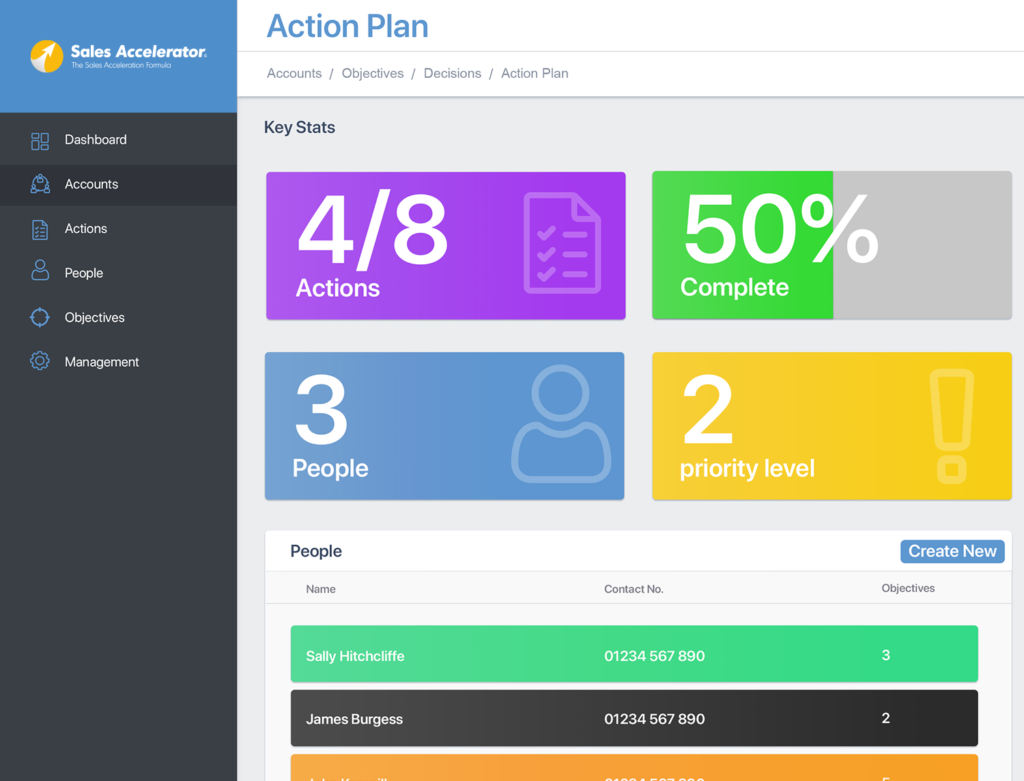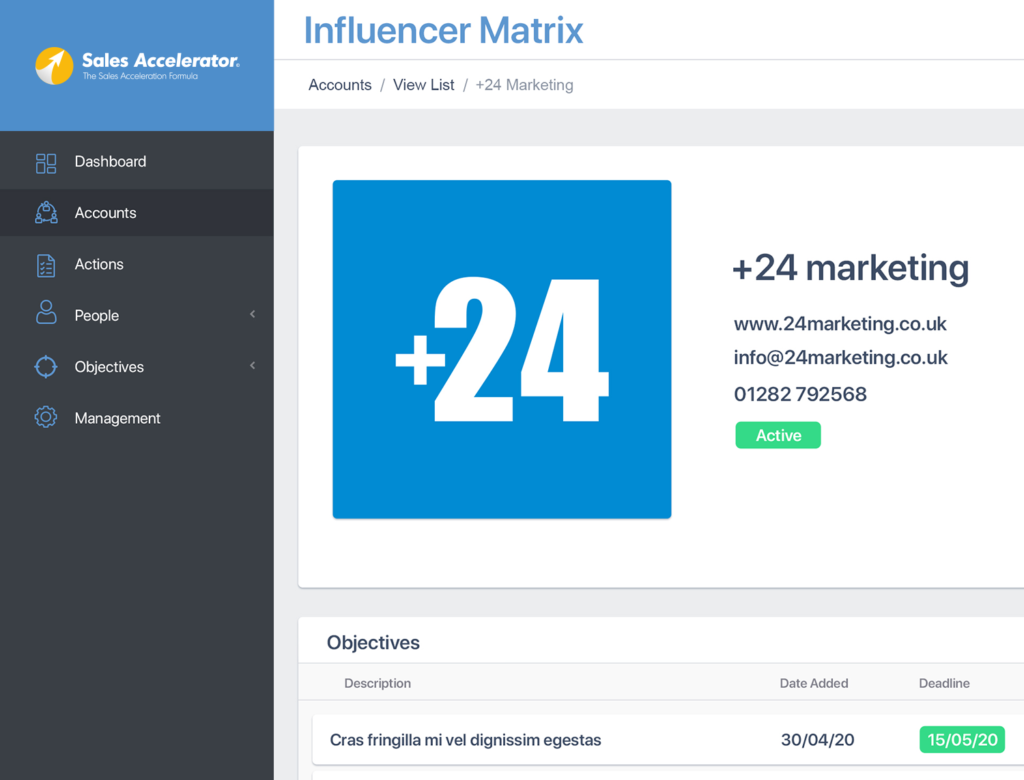 How it works
The formula is a logical process
We have developed The Sales Accelerator software which gives a systematic way of organising yours and your teams sales process. The software follows our unique formula and process we have developed through years of fast growth sales teams.
It gives you complete visibility of your sales teams, the stages of the account management and a sales action plan. It does all of this whilst offering complete flexibility and ensuring the software works with your team and does not add to their workload.
What's more, it also has our unique tools to map the key influencers and prioritise your sales actions.
Find out more about our formula from our founder Hakeem.
Why Sales Accelerator
The Sales Accelerator model has been implemented across many different companies since 2011 and in fact we just finished working with a company that used this process and reduced their complex sales cycle from 24 months down to 6 months. We are now delighted to announce that that proven methodology is now been launched with software tool called sales accelerator.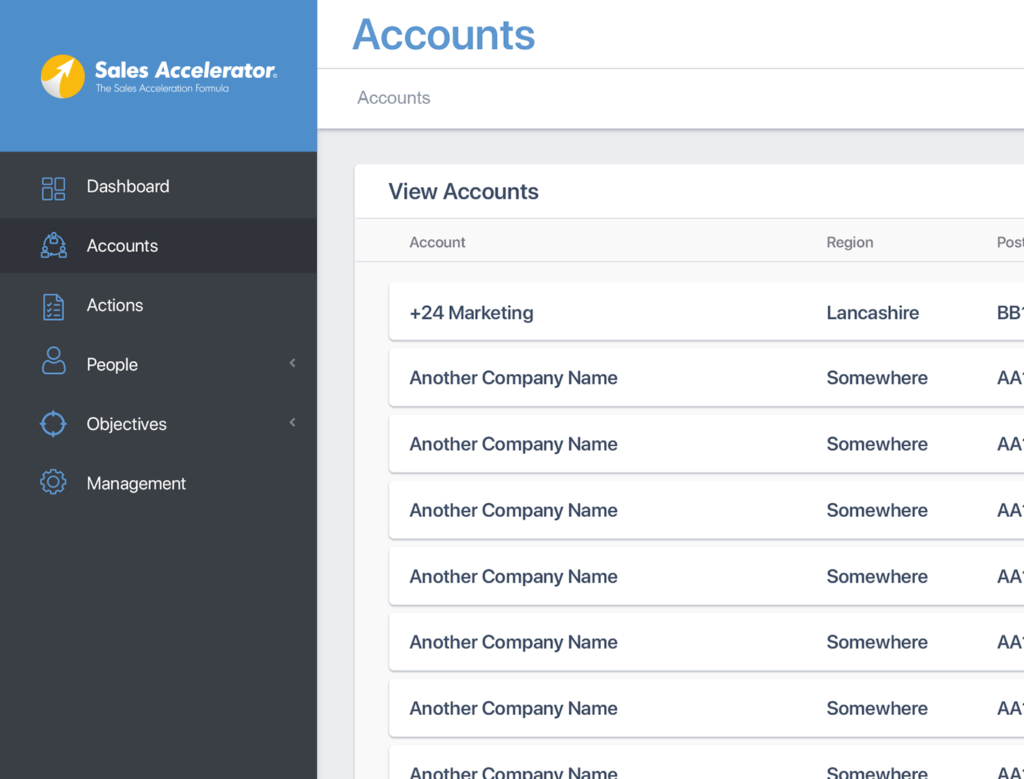 The Sales Acceleration formula is simple
Target the right accounts based on potential and probability
Understand the decisions you are trying to influence
Build clear plans, actions and deliverables around those decisions
Seems simple doesn't it, and it is but very few people do it because they don't know how to link these 3 things together to deliver sustainable sales success. We do and we continue to use this methodology to deliver success for ourselves and for clients.
This system is not for you if
You don't know how to sell
You are looking for a standard CRM
You don't believe sales is a structured process that can be constantly improved
But it is for you if
You already know how to sell
You want a methodology that can help you speed up your sales cycle and a technology to make it even easier
You want to embed good sales process into your organisation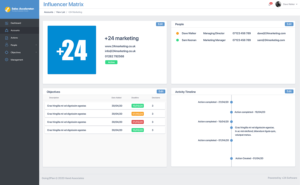 Book A Demo
Try our software completely free with no commitment or payment details required. Begin your journey to reducing the sales cycle today!
Book A Demo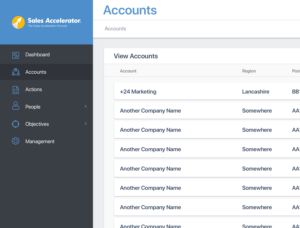 The Features
Still not sure? Take a look at how these fantastic features could benefit your business.
The Features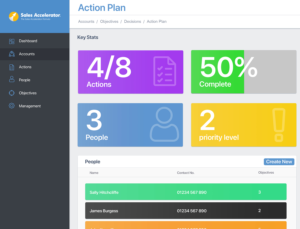 Free Resources
We have lots of available for you to use for free. You can also take one of our courses online!
Free Resources
Note that your sales masterclasses have been a great inspiration for both NC Medical and NewCompliance.

We are still using a lot of your knowledge on DMUs etc in our everyday business. So thanks a lot for that great contribution and for the great successful cooperation we have been having over the last years.
CEO – New Compliance, Netherlands